Most markets follow a 4 to 9 bar cycle count from low to high and high to low.
The cycle count is valid for all markets and all time frames. Yep! Meaning, it does not matter if you are trading pork bellies, currencies, indexes, or bonds, the cycle count is valid in all markets and yep! all time frames, 1,4,6,10, 15, 40, 60, 120 minute charts.
Our Alpha CT 04 CycleWave indicator plots these cycle counts in real-time.
The set up is to wait for the market to reach a cycle bottom or top and exit positions or look to enter the market the opposite direction.
Note: It is important to apply all these other models to determine when this cycle top or bottom is most likely to occur. Meaning, if we are at a 9 bar cycle high band range, do we just sell? Not exactly... it important to see the angle of the Keltner Bands, if we are above or below the Moving Average, or where we are on the longer term cycle bands of longer term charts. Now, you can see how we start to put the puzzle together. If the trend was down, we are below the moving averages, etc, etc, then YES, we would most like start to sell this type of 9 bar cycle high trade.
You are starting to see how this all works together.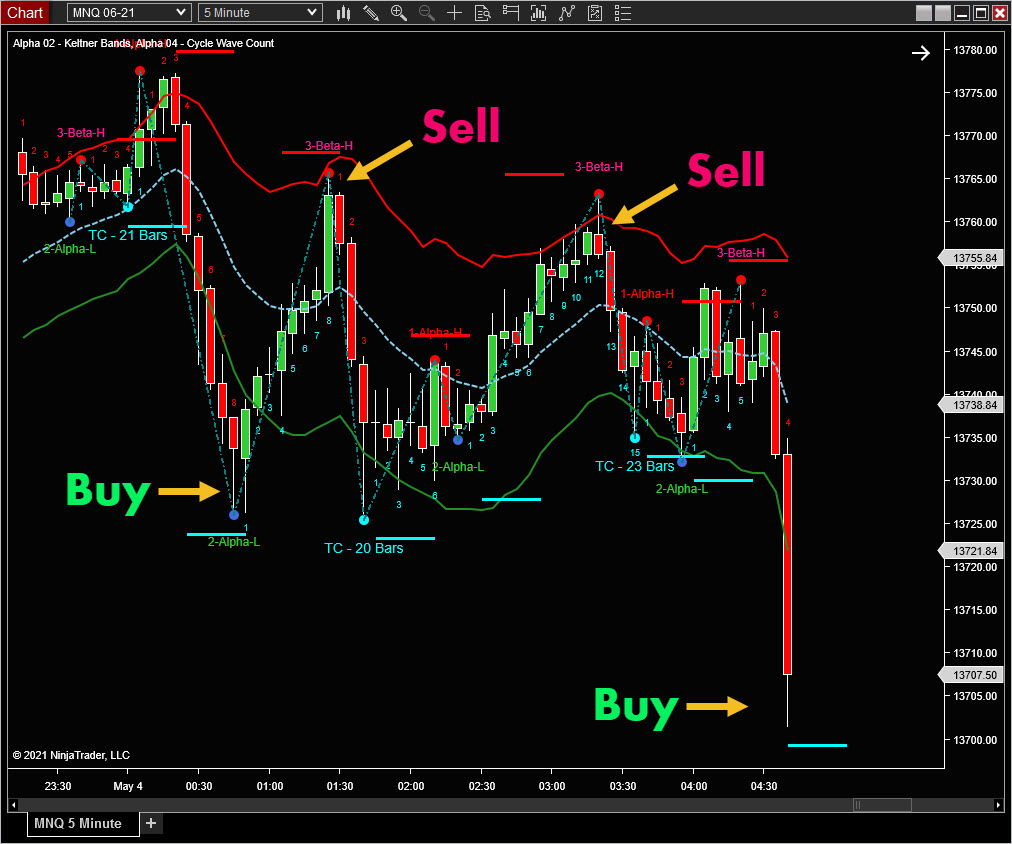 Past performance is not necessarily indicative of future results.
---
Next -> Fade Models
22. Market Above or Below The Moving Average "MA"
---
Futures, Options on Futures and Forex trading involves a substantial degree of risk of loss and is not suitable for all individuals. An investor could lose the entire investment or, in some cases, more than the initial investment. Past performance is not necessarily indicative of future results.